• 2022 • Christmas • December • Winter
🎄 December is almost here! The last month of the year is for sure one of my favorites. Winter begins and, of course, there's Christmas. Our house is already decorated and I can't wait to start baking gingerbread cookies and binge watch Christmas movies. 🎄 But as not everyone celebrates Christmas, there are two versions for this month wallpapers, one Christmas themed and one that is not. And, as usual, a summer version for all of you living in the Southern Hemisphere. 🎄 Click on your preferred image to open and save it  (tap and hold for mobile phones or right click for...
---
• February • Wallpaper • Winter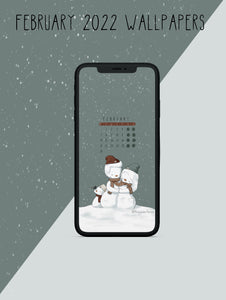 ❅ The Wallpapers for the shortest month of the year are here! This month is also when it usually snows the most, but this year winter has been sunny and warm so far *sigh*. So if you can't see snow irl as well at least you can see it in your phone with this cute wintery wallpaper.  ❅ This month also features a little friend of ours that comes to visit us every winter. He is a little black redstart that usually roams around our place when the weather is cold 🥰  ❅ You can find the wallpaper with the...