🎃  We have Halloween wallpapers! Here are some wallpapers to turn your phone into spooky mode 👻  Does it seem familiar? That's because it is very similar to the October one, but with a monstrous twist.  🎃  You have it in all the usual formats, Monday to Sunday, Sunday to Saturday and calendar-less.  🎃  Click on your preferred image to open and save it  (tap and hold for mobile phones or right click for computers). Hope you like them :) 🎃     *These images are for personal use only. Their use for any business or commercial purposes is not allowed. By downloading...
---
• 2021 • Autumn • Fall • october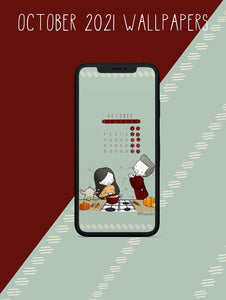 ☁︎ October wallpapers are here! Popcorn are a favorite at our home, especially once the days turn longer and colder, and together with some pumpkins they give the perfect autumn vibes 🍿. What is your favorite way to eat corn? 🌽 ☁︎ This month wallpaper is available in both calendars, Monday to Sunday and Sunday to Saturday, as well as a calendar-less one. You can also find them Spring themed for all of you living in the Southern Hemisphere. AND... those are not gonna be the only wallpapers this month. Stay tuned for some spooky ones ;) ☁︎ Click on...